450SMX Points Standings
450SMX championship standings and overall rider points after SMX Finale (LA Memorial Coliseum, Los Angeles).
Jett Lawrence has won the 2023 450SMX SuperMotocross World Championship with 163 points, 17 points ahead of Ken Roczen.
450SMX 2023 Prize Fund
$5,500,000 in prize payouts will be available for 2023 SuperMotocross World Championship Finals.
The 450SMX Champion is guaranteed a seven-figure payday of $1,000,000 for earning the most SMX points in the three-round SMX Playoffs and Final.
The second place rider will earn $500,000, third place $250,000, and positions 4 through 8 will still win a payout of six figures. 9th place will take home $90,0000 while a tenth-place finish will still earn a considerable $75,0000. Positions 11 through 22 go from $50,000 down to $25,000.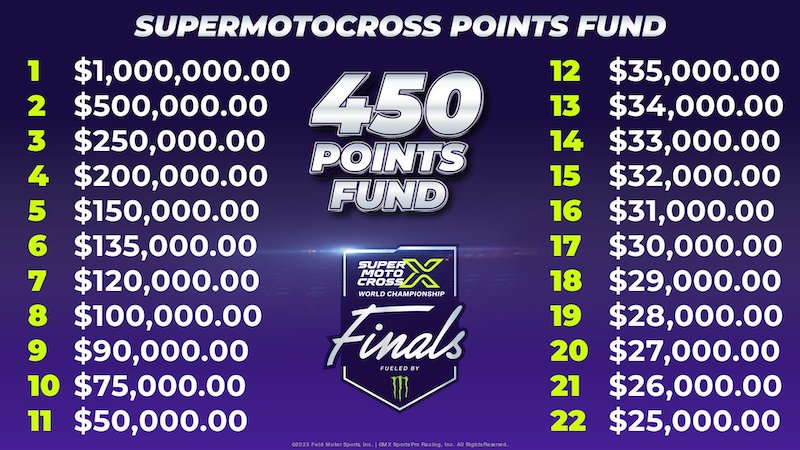 450SMX riders will also earn a prize fund based on their finishing position within each of the 3 events. First place in the 450 class will collect $100,000, 2nd place $50,000 and third place will collect $25,000.
4th place earns $10,000, 5th place $5,000, 6th place $4,000, 7th place collects $3,900 then continues in thousand dollar increments to 30th place, to include the LCQ competitors.