Worldwide TV coverage for the WSX 2023 season, starting with the WSX British GP in Birmingham, UK on Saturday the 1st of July, and ending at the WSX Australian GP on Saturday the 25th of November 2023
Updated: .
How to watch the WSX Championship
Fans can sign up to WSX.TV completely free and watch race highlights and behind the scenes team and rider content all in the one place. Live streaming from main races only available in selected countries.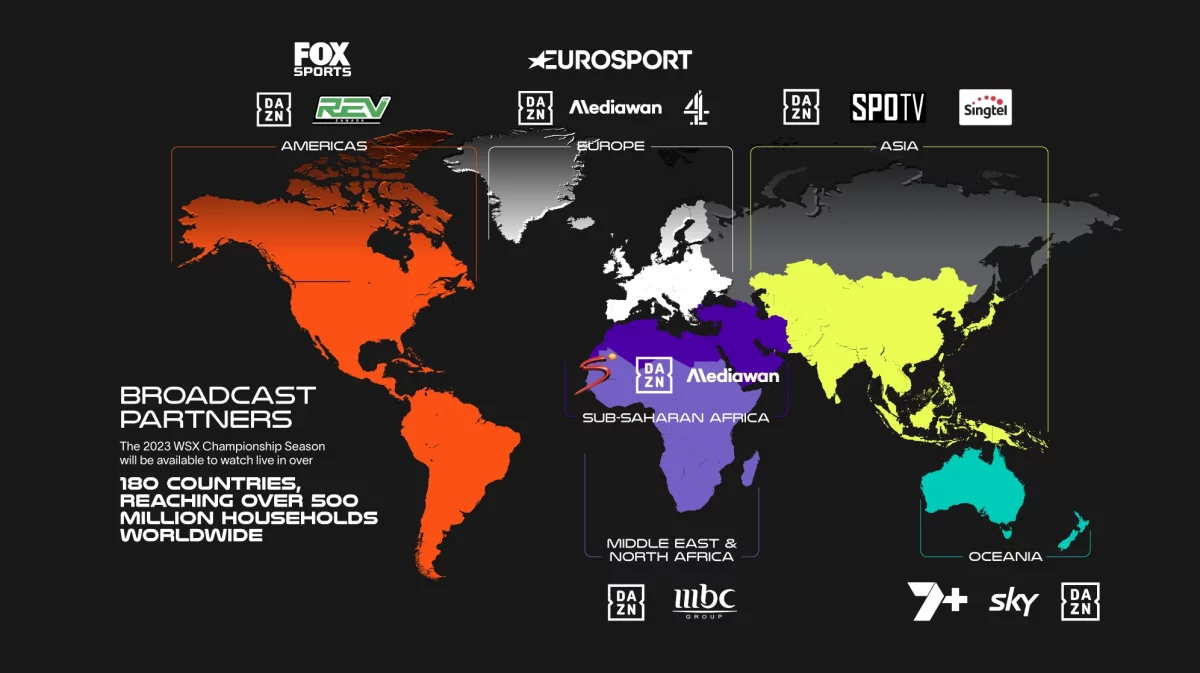 TV coverage for the 2023 WSX Championship within the United States will be available on WSX.tv or on Fox Sports (FS1).
Warner Bros. Discovery will offer uninterrupted live and on-demand streaming coverage of every race from the WSX season across 50 markets in Europe (excluding Germany), and in 20 languages via the Eurosport App and on discovery+ in Austria, Denmark, Finland, Italy, the Netherlands, Norway, Sweden, the United Kingdom and Ireland.
Live television coverage of selected races will also be available on Eurosport 1 and Eurosport 2 in addition to the broadcast of a highlights programme following each round.
DAZN will offer exclusive broadcast of the 2023 FIM World Supercross Championship in Japan and non-exclusive broadcast on the platform globally (excluding Brazil, USA, Caribbean, Australia, Republic of Ireland and France).
What is WSX.TV?
WSX.TV is a dedicated on-demand streaming service for the World Supercross Championship. Its aim is to provide supercross fans and general consumers with the opportunity to sign up and subscribe to "unrivaled access to the live race broadcast, on-demand streaming, and exclusive content".
SX Global, the Australian sports and entertainment company spearheading the FIM World Supercross Championship (WSX) announced the new streaming for the 2022 pilot season.
"The WSX Championship broadcast will feature several revolutionary innovations never seen in supercross. The streaming service promises to offer fans an elevated viewing experience, such as live on-board cameras with multiple angles on multiple motorcycles, an enhanced graphics package, extreme super slow-motion cameras, rider statistics, spider-cam technology and more. Fans can experience world-class, championship-level supercross racing in all its glory.
WSX.TV will provide a free subscription option to all countries, called Freemium, which offers access to exclusive WSX content, including live access to press conferences, rider and team profiles, interviews, unseen track action and more. In Australia, UK, and Europe, where a live television broadcast partner exists, only Freemium will be available."
In all regions where TV broadcast options are unavailable, there are three passes available to fans:
- Freemium ($0) allows access to limited WSX Championship content and race recaps
- Pay-Per-View (US$8.99) allows direct streaming access to the races you want to watch
- Season Pass (US$49.99) allows access to every 2023 WSX Championship race.
In the United States, viewers can watch on WSX.tv or on FOX Sports 1 (FS1) 24 hours after the live broadcast airs.
More information and details are availabe on the WSX.TV website.
Latest World Supercross Videos